About
This three-day conference is the 9th of a biennial series of international scientific symposia aimed at exploring advancements in Ground Penetrating Radar (GPR) techniques and applications.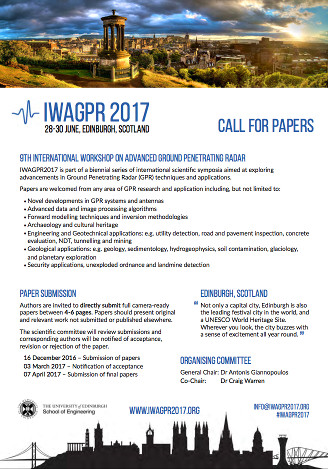 There will be sessions in the workshop covering (but not limited to) the following areas of GPR research, development and usage:
Novel developments in GPR systems and antennas
Advanced data and image processing algorithms
Forward modelling techniques and inversion methodologies
Archaeology and cultural heritage
Engineering and Geotechnical applications, e.g. utility detection, road and pavement inspection, concrete evaluation, NDT, tunnelling and mining
Geological applications, e.g. geology, sedimentology, hydrogeophysics, soil contamination, glaciology, and planetary exploration
Security applications, unexploded ordnance and landmine detection
Please share our call for papers document with interested parties.
We currently (23.06.2017) have 149 delegates registered to attend the conference from a range of different countries around the world.
Next workshop - IWAGPR2019 hosting
It is customary to announce the hosts of the next conference, which will be IWAGPR2019, at the preceeding one. If you are interested in hosting IWAGPR2019 please email an expression of interest to info@iwagpr2017.org. Interested parties are usually expected to deliver a presentation outlining their bid. Selection of the winning bid is subsequently made by committee.
Previous workshops
The inaugural International Workshop on Advanced Ground Penetrating Radar took place in 2001 in Delft, The Netherlands. Since then the workshop has occurred biennially in various European cities. Almost all of the proceedings of the previous workshops have been published by the Institute of Electrical and Electronics Engineers (IEEE).
Edition
Year
City & Country
Chair(s)
Proceedings
8th
2015
Florence, Italy

Lorenzo CAPINERI & Massimiliano PIERACCINI
Universita degli Studi di Firenze, Italy
IWAGPR2015 papers
7th
2013
Nantes, France

Xavier DEROBERT
IFSTTAR, France
IWAGPR2013 papers
6th
2011
Aachen, Germany

Jan VAN DER KRUK
Forschungszentrum Julich GmbH, Germany
IWAGPR2011 papers
5th
2009
Granada, Spain

Rafael GOMEZ MARTIN
University of Granada, Spain
Not published
4th
2007
Naples, Italy

Francesco SOLDOVIERI
CNR-IREA, Italy
IWAGPR2007 papers
3rd
2005
Delft, The Netherlands

Sebastien LAMBOT
Universite catholique de Louvain, Belgium
IWAGPR2005 papers
2nd
2003
Delft, The Netherlands

Alexander YAROVOY
Delft University of Technology, Netherlands
IWAGPR2003 papers
1st
2001
Delft, The Netherlands

Evert SLOB
Delft University of Technology, Netherlands
Not published